Inside Weddings – Fall 2003
The Simple Truths of Planning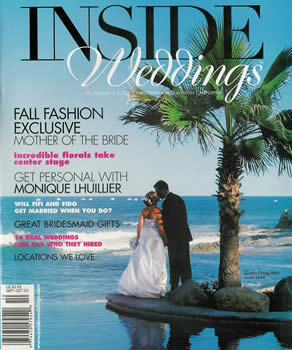 Remember how you felt the moment your fiancé proposed marriage to you…joyous…excited…even elated. What you may not be able to anticipate is how you will feel throughout the planning process. If you adjust your expectations at the start, you will be better prepared for planning your wedding day.
Plan To Feel Overwhelmed By Details
Even the most experienced wedding planner or family member cannot shield you from being overwhelmed by decisions, tasks, or lack of time to plan. A detailed wedding checklist can often decrease the anxiety of trying to get everything done at once. The Checklist will state the tasks that need to be done by a particular amount of time. For instance, invitations should be purchased 3 months prior to the wedding day not, 1 year.
Plan for Others To Disappoint You.
Your emotions are involved in planning one of the most memorable days of your life, so expectations of others may increase. For instance, it is common to be disappointed in wedding guests who don't RSVP on time, family members who behave as if it is their wedding, and wedding party members who are not supportive or loving as they once were. Bridal party members can sometimes be jealous of all the attention you receive while you plan your beautiful day. For instance they may act passive, yet aggressive, like not returning calls to you or being to busy to help plan. Whatever the disappointment or anxiety you are feeling as you plan, share it with a therapist, friend or family member. need someone with an open mind to listen without judgment.
Plan To Have A Difficult Time Sleeping the Night Before Your Wedding Day.
With so much anticipation about how your wedding day will unfold, it is very common to experience restless sleep the night before your wedding day. I recommend a full-body massage (or at least a foot massage) and a minimum of eight hours of sleep so that you are well rested for your extraordinary day
Plan To Be Overwhelmed By Emotions.
From time to time, on your wedding day, you can expect to shed tears. Many brides have described unexpected waves of emotion that come and go without notice. Avoid rushing through your day and filling it up with many tasks, like creating table assignments or last minute wedding ceremony programs.
As the tears come, remember to breathe and have Kleenex available…Don't rub: blot.
Plan To Go Beyond Your Budget.
If you're like most brides and grooms, you have a budget for your wedding, and you hope that all aspects of your dream day will fit into the projected amount, it frequently does not and this is a formula for disappointment. It's difficult to avoid thinking, "I only get married once. Why not get the bigger package?" When you meet professionals, let them know your budget and ask if they can help you fit their cost into the budget. Perhaps there are aspects of your plan that can be changed or eliminated to accommodate an added expense. Allow for creativity and plan for the unexpected and you are sure to have a memorable day.