Inside Weddings – July 2003
Maximize Pleasure And Minimize Stress On Your Wedding Day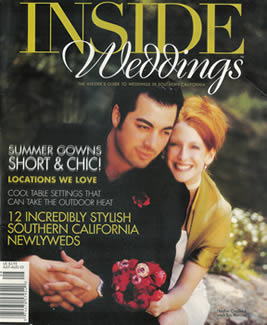 You have just planned the details of most special day of your life, but have you thought about how to add peace and tranquility the mix?
A few tips to help reduce stress and create calm for you and all those around you…
Get ready in your favorite hotel room.
You will be surrounded by luxury and service. This lends itself to calm, convenience, and beautiful photo opportunities. A church, synagogue or home usually do not have amenities and phone call away
Bring the services to you.
If you are getting married at a hotel, check into your honeymoon suite the night before the wedding, wake up to breakfast in bed, enjoy a leisurely work out or massage and then allow your beauty stylist to work his/her magic in the comfort of your hotel room. Room service for lunch is just a phone call away. If your bridal party joins you for hair and make-up, arrange for a light meal for them, and make sure your hotel room is large enough for the group. Once you are almost ready, invite your photographer and videographer to join you for last-minute beauty shots. Your next stop: down the aisle.
Avoid the stress of traffic.
Have your beauty stylist come to your location, rather than driving to their location. It is very important that you and your bridal party avoid driving on your special day. Traffic can be so uncertain in Los Angeles, so spend a little extra money to bring your beauty services to you.
Call in healing hands.
Schedule a massage for either the night before or the morning of your wedding day. A soothing massage can create a beautiful glow and , slow down potential anxiety.
Pack accordingly.
Make a list of clothes and items you want for your wedding day, your overnight stay and your honeymoon. Organizing your belongings will assure you that you have everything that you will need on your day.
Eat, drink, and be merry.
Make sure that you and your bridal party hydrate and eat while getting ready. Nerves of anticipation can be expected. To reduce the chances of passing out, eat healthy foods, preferably without sauces and salt.
Hire transportation.
If you are getting married at one location and moving guests to another, it is important to provide transportation for your wedding party. Keeping the group together is tantamount for creating fun, assuring promptness and reducing stress. If budget permits, shuttling guests to and from locations is very generous touch, and it's a good idea is to provide snacks and beverages on the shuttle so that you and your wedding party maintain your festive energy.
Make a new tradition.
Having pictures taken with your future spouse allows you two an intimate moment before all eyes are on you at the ceremony. After a private 20 minute photo session, invite your wedding party and family to join in. It allows you freedom after the ceremony to join your cocktail reception or have another private moment (while sampling your favorite hors d'oeuvres and beverages) before you engage in overwhelming merriment, laughter, and memory making. Not to mention, your wedding party and family have more time to enjoy the party.
Delegate details to a qualified coordinator.
Shifting the details from your mind to a professional coordinator increases your ability to relax and enjoy your day. Avoid dealing with money, vendor details, and timing issues. A professional coordinator will create a timeline schedule, encompassing all of the vendor details, so that you will know how your wedding day will unfold. In addition, expect your coordinator to give a shorten version of the timeline to your wedding party and family at the rehearsal. A professional coordinator can be your eyes and ears so you can have the pleasure of receiving your carefully planned day.
Prepare for a sensual wedding night.
While you are at your wedding ceremony, room service will clean your room, and your wedding coordinating team will decorate your suite with rose petals and scented candles…a honeymoon night fit for a King and Queen.