Inside Weddings – Spring 2003
If You Just Got Engaged, It's Not Too Late To Get Married In 2003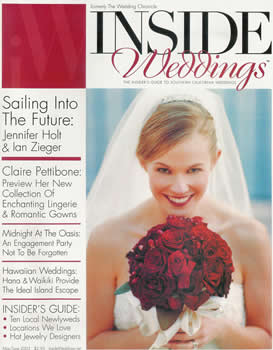 So many of us get engaged, unaware of how much time and money it will cost to create a special wedding day. You have chosen to commit to your soulmate and then the daunting task of planning arises…How much will it cost, how much time will it take, and why do we have to wait so long? People are busier than ever, so I have created a wedding checklist with an estimated amount of time & money.
In the Los Angles area, for example, the consensus of the key dates to be married seem to be: November 29th (Saturday after Thanksgiving), July 4th (Friday Night) and anytime between Christmas and New Year's Eve.
I have listed below the primary steps to a dream wedding day and the amount of time it could take to complete each task. The budget refers to the average amount of money spent on this particular selection. The numbers below are averages and are based on 100 guests.
4 Months
Choose a wedding ceremony site and wedding reception site.
Time spent: 1-5 days Budget: $ 10, 000.- $ 20,000.
For ceremony and reception locations, your options include churches (excluding a Catholic Church, which requires six months notice) temples, hotels, country clubs, or even a home. Be open to an evening celebration on a Friday, Sunday or Thursday. Your food and beverage minimums, catering costs, and site rental fees will be lower during these days of the week. Appointments for visiting site are always recommended.
Choose wedding day attire
Time spent: 2-6 days. Budget: $ 450.- $ 10,000.
You may chose a dress off the rack and make a few alterations, in which case it will take just a few days. You may choose a designer gown, have the shop put a rush on it and have them create a special look with a custom viel/headpiece, jewelry, and shoes.
Appointments for wedding attire are always recommended.
Hire a wedding coordinator
Time spent: ½ day to 2 days. Budget: $ 2,500.- $ 4,500.
Hire a professional coordinator to save you time by bringing the best selection to you and allow them to direct you to the key vendors or sites that will be a perfect fit for your vision, budget, and personality. This is the key to creating your dream day within a 4 month period. For instance, your coordinator can provide you with a customized wedding checklist, detailed budget, samples of videographers and entertainment options that fit your vibe, vision and budget. You select who you like and your coordinator will expedite the contractual process. The coordinator usually does not sign your specific contracts with your selected vendors. In addition, your coordinator may reserve a block of rooms for your wedding guests, transportation, just to name a few.
Select a Photographer
Time spent: ½ day to 2 days. Budget: $ 3,000. – $10,000.
Don't chance this to a friend or relative. A professional will blend in with your guests while keeping your wishes and vision in focus. Your finish product will certainly reflect that.
Select your Floral Designer
Time spent: ½ day to 2 days. Budget: $ 2,000. – $10,000.
Many people have thought about being creative and going to the flower mart to arrange wedding day flowers, but few recommended it to others. By selecting a florist who mainly does weddings and special events, you chose a designer with relationships to the top growers in Los Angeles, a team handling the messy work of flowers and executing your vision to perfection.
Select Bridal Registry Locations
Time: 1 to 2 days Budget: free
Many people are registering with their Travel Agents to have their honeymoon sponsored by generous monetary gifts from their guests. In addition, more people are opting for a 1 stop shop with online buying, available through stores like Bloomingdale's or Macy's
Select your Entertainment
Time: 1 to 2 days Budget: $ 1,500. – $ 6,000.
You will need to select ceremony music (usually 1 hour), cocktail reception music (usually 1 hour) and wedding reception music (usually 4 hours)
Select your Videographer
Time: ½ day Budget: $ 2,000. -$ 4,000.
Since your wedding coordinator already showed you a few samples, it is just a matter of meting the lead videographer and signing the contract.
3 months:
Select your custom printed items
time spent: ½ day to 2 days. Budget $ 2,000. – $ 3,000. per person
Your printer/designer can create invitations, thank you notes, and optional items like: menus, programs, and place cards. They can even stamp, assemble, and address invites, all for the budgeted price above. As for RSVP's, you may choose to handle them or have your coordinator accept and manage them.
Meet with your travel agent and book your honeymoon
Time: ½ day to 1 day. Budget: TBD
If you haven't included Honeymoon registry in your Bridal Registry, this is a great time to book the vacation during which you'll relax and enjoy the first days of calling each other "husband" and "wife."
Select a Hair and Make up team or person
Time: ½ day Budget: preview: $ 40. – $100. at their location
Budget for the wedding day treatment: $ 350.- $ 500.
The bride usually receives a preview of her wedding day hair and make up person or team. Additional costs will apply if you add your bridal party or mother(s). You can expect to pay $ 40-$ 75. per service, per additional person, not including the bride.
Select your Officiant
Time: ½ day to 1 day Budget: $ 450. – $ 1,000.
Meet with your minister, if they come with the ceremony site you already selected or meet with an officiant who will help you create your ceremony order and articulate your vows.
2 months
Engagement photo session with your photographers
Time: ½ day Budget: included in booking
This is a wonderful time to build rapport and connect with your wedding day photographer in a casual environment. Select a location that has beauty and meaning to you both.
Get your Marriage License
Time: ½ day Budget: $ 68. – $ 200.
You can choose to go to the county clerk's office (310.727.6142) during the week, or to A Legendary Affair (310.372.5200) on 1 Saturday a month, or have an authorized clerk (310.587.6201) come to your home. You will need to arrive as a couple with your identification (license, passport or birth certificate).
Alterations, personal garments, and accessories
Time: ½ day to 1 day. Budget: $ 200.-$ 500.
Send Wedding Invitations
Time: ½ day. Budget: included in the price above.
Give your guests as much time as possible to plan to attend your special day. Include hotel options and a map to help your guests with their plans.
1 month
Meet with your Coordinator and/or Catering Manager
Time: ½ day to 1 day. Budget: N/A
This important meeting is to create a detailed timeline, your wedding day food and beverage, and select optional items such as: your linens, chairs, lighting, transportation, menus, etc.
2 week
Create your seating assignments
Time 1 – 3 days Budget: N/A
By now you should have received all your RSVP's from your guests. If not, you may want to call them to confirm their attendance. Guests usually prefer that your assign them to a table and let them find their own seats at the table. Sometimes the head table or family tables have assigned seats at the table.
1 week
Pick up your wedding dress
Time: ½ day Budget: N/A
Take off work and prepare for your visitors
2 days,
Spa day with your girlfriends
Time: 1 day Budget: TBD
Rehearsal practice and dinner
Time: ½ day Budget: TBD
Pack for your honeymoon
Enjoy your family and friends
1 day
Check into a special Luxury Hotel Suite
Time: TBD Budget: $ 200.-$ 600.
This is best so that when you wake up you can get ready at the hotel rather than at your home.
Total Budget: (taking the average of the estimated budget): $ 35,500.
Total estimated time on your part to plan, provided you have hired a Professional coordinator: 20 days