Inside Weddings – Spring 2005
Can you afford not to hire a wedding planner?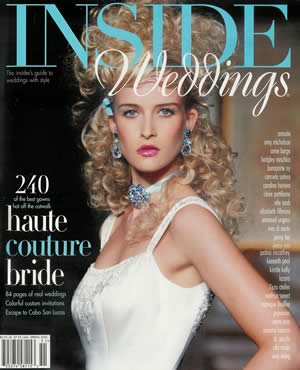 You're near the beginning. You've experienced the joy of hearing the words, "Will you marry me?" You've shared your thrilling news with the people you love. You've daydreamed about your new life ahead, maybe a new last name, maybe children, and growing old together. You've even visualized yourself walking down the aisle and dancing your first dance as husband and wife. Now what?
Perhaps the most important first step in planning a successful, happy wedding is drafting a realistic financial and emotional road map. Weddings certainly aren't free, and they're often not inexpensive; being realistic about what you can afford will be the foundation of a pleasant overall wedding experience. First, it is important to choose a location you can afford. On the average an up-scale beautiful wedding will cost $175 – $225 per person for just the food (5 hors d'oeuvres, a 3-course meal and wedding cake), beverage (hosted bar for 5 hours), tax (8.25%) and gratuity (19%-21%). Double that number to calculate your overall per-person amount. For instance, a luxury hotel may charge $200 per person for food and beverage; double that to estimate total wedding costs. Four hundred dollars per person is something to think seriously about if you're debating whether to invite your office buddies or that neighbor who has you over for coffee twice a year. Multiply the anticipated budgeted amount ($400) by the average number of guests, let's say 150. This would mean your overall wedding budget would be $60,000 for your total wedding costs (planner, stationery, florist, photographer, videographer, hair, make up, entertainment, officiant, rentals, lighting, videography, tax and gratuities).
Now keep in mind that your "day-of" coordinating team will charge 5%-10% of your total costs ($3,000. to $6,000). A wedding planner's fees are usually the same regardless of when she enters the process, so you'll benefit most if you hire a planner right at the beginning. If you tap into the valuable resources sooner than later, you'll get the most for your money.
Most brides agree that hiring a wedding planner was the best money they ever spent. Enlisting a professional wedding planner is like taking out an insurance policy. It's like a policy to protect your happiness. How many stories have you heard about loving couples who end up battling over details for weeks and months before the wedding? Despite the happy and optimistic nature of the event to come, when a bride and groom try to do everything themselves, even with the help of family and friends, they often end up angry and exhausted when the wedding day arrives. Impending marriage is serious and often very emotional business. Feelings are right up there at the surface, and people wrestle with their conscious and unconscious fears and apprehension, even doubt. What better time to relinquish the details of planning a big and complex party? If you are willing to surrender the logistical details to a qualified professional, you will have more time and energy to concentrate on the emotional and spiritual significance of the commitment you are about to make. You'll be able to enjoy time with your friends and family who are excited and who want to share your joy with you. And most of all, you will be able to focus on your fiancé, nurturing him during a time when men traditionally feel left out. I can't tell you how many times I have heard men complain that their fiancés became so wrapped up in the wedding that they seemed to forget about the whole point: the relationship.
So, if you've decided that bringing a planner on board is the way to do, how do you choose the right person? Here are some traits to look for in a wedding planner:
Diversified Interests.
– A planner who's been "out there."
– A wedding is going to be more interesting, original, and creative if your planner has a wide range of personal and professional experiences.
– A person who is close to his or her own family and friends.
– You want an extrovert who highly regards family, friends and the ritual of a celebration of love.
– Someone who is very comfortable with a lot of different people.
– A person who listens more than talks.
– What more is there to say?
And when you find the right one, you will know. Choosing the right wedding planner is a little like choosing the right partner: there are many ways to get there, introduction, focused research, chance…..but you'll know when the connection feels right.
Once you've hired a wedding planner, what's your role in the wedding planning? Bringing in a professional doesn't mean that you're going to be rendered creatively and logistically irrelevant, not at all. The planner is your employee, after all. You're still the boss, and all of your ideas are relevant. However, although most brides today are very savvy, creative and anxious to try their hands at planning a wedding, the smart bride, like a good CEO, knows how to delegate and allow professionals to do what they've been trained to do. A professional planner is your co-creator, director, producer, personal assistant, therapist, coach and friend. This person knows the vendors, knows the process, knows how to negotiate, and knows how to relieve you of the burdens. Without this kind of professional on your team, you could be headed into some very unexplored wilderness. If you've been closely involved with weddings that have had planners and weddings that have had not, you know exactly what I'm talking about. A wedding with a sophisticated and experienced coordinator seems to move seamlessly and gracefully, and everyone involved manages to enjoy the experience with the least possible stress. Weddings without professional coordinators often have many confused, anxious, and stressed moments. Communication between so many people is very complicated, so without a capable person involved, a person who is not part of the wedding party, the flow of the evening often suffers. People don't know where they should be or when for photos, speeches, dances, toasts. The band doesn't know what to do and when. What happened to the vegetarian options? When will the cake be cut and who's supposed to announce that? We're ready for the speeches…where's Dad? Why didn't the hotel tell us we were going over our bar budget?? Aunt Judy is offended that she wasn't asked to give a speech and now she won't join us for pictures! What do you mean the band doesn't know our first dance song???? AHHHH! This list is endless. You shouldn't have to think about these things. If you hire a professional wedding planner, you won't.
A wedding is your own academy awards night, filled with beautiful gowns, tuxedos, paparazzi, ceremony and a post-awards party with all your favorite people in one room all wanting to say hello and congratulate you. These are one-take moments, no "re-dos." If you think the pleasures of wedding-week massages, steam baths, manicures, pedicures, facials, and other sensual treats are worth the calming effect you deserve the big day (and they are!), multiply that calming effect by 100, and that's what a good wedding planner is worth. Yes, this is a significant expense, but can you afford not to hire a planner?