Special Events – January 2003
Special Events Magazine January, 2003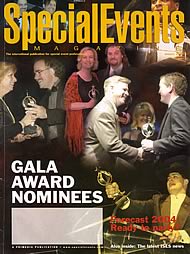 REALITY CHECK: Riding the current popular wave of reality shows is "Whose Wedding is it Anyway?"- a program that goes beyond the nuts and bolts of wedding planning into the sometimes nutty lives of wedding planners. The program premiered in December on Style, which is also the home of party-planning show "You're Invited."
Describing the premise of the 13 episode show, series producer Suzanne Westhall explains, "We follow the lives and weddings of eight planners in New York City, Dallas, and Los Angeles and see what it takes to put together the most important day of a couple's life." But, she says, it's watching how the planners navigate their own personal and professional lives that "makes for some very entertaining television."
Sure it's fun for viewers, but what about the planners themselves? Steve Kemble of Dallas-based Steve Kemble Event Designs says being subjected to "Whose Wedding" round-the-clock filming wasn't always a picnic. Not only did having cameras around constantly pressure him to "hit the mark the first time" when it came to décor set-up, but it also made his private life a very public matter: "They even showed up when I was getting my Botox treatments!"
Still, he says, the potential payoff is worth the pressure. In addition to opening up an abundance of career opportunities- Kemble is doing guest appearances on two other television shows, with more is discussion- he believes programs like "Whose Wedding" have the unique ability to "garner more respect for the industry and those professionals working in [it]."
PRO IN PERSON:
For Kemble's co-star Mary Dann of Manhattan Beach, Calif-based Mary Dann Wedding & Party Coordinators, "Whose Wedding" has given her a means of showing the world just how hard she works.
"I'm everything. I'm my accountant, I'm my marketing person, I'm the Web site designer. Then there's juggling all those clients," she says. With wedding planning, she adds, "Everybody thinks it's glamorous and wonderful, and they have no idea the work and long hours that go into it."
Her appearance on the show demonstrates not just the rigors of her professional life, she says, but presents wedding planners as real human beings. "They went on a date with me, they went to Yoga with me, they went to a Father's Day party at my fathers house and interviewed my brother-in-law and my nieces and nephews," she explains. And lest anyone chafe at the thought of such under-the-microscope treatment, she adds, "The way they did it was very kind, very conscious about respecting my space."
SELF-STARTER:
While some planners wait for producers to come knocking- "Whose Wedding" found Dann via a column she writes for a Los Angeles wedding magazine, and was clued into Kemble through word-of-mouth in the Dallas event scene- others are taking matters into their own hands.
Laurence Whiting of San Francisco-based global Gourmet Catering recently shot seven hours of footage for "Party Party!"- a show he worked on with an independent Los Angeles-based producer. According to Whiting, he is currently "in discussion" with PBS, HGTV and other networks about the show, which has been edited down to five-minute and 30-minute versions.
Whiting says his goal with the program is to "shed the veil of mystery" with regard to the event industry. His approach, which combines a real-time "how-to" planning component with a focus on the planner's personality, poses many production challenges, he admits. But, he adds, the same qualities that complicate production lend the show its drama: "This is what creates tension and suspense for every episode. Will they make it? Will they get it all done before the guests arrive?"
Reprinted with permission from the January 2004 issue of Special Event Magazine ( http://www.specialevents.com ) Copyright 2004, PRIMEDIA Business Magazine & Media Inc. All rights reserved.