The Wedding Chronicle – January 2003
How To Thrive Without A Wedding Planner To Help You…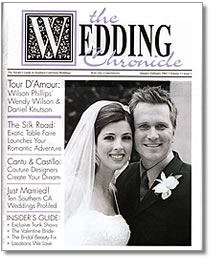 A wedding planner is organized and creative and can handle pressure with ease, and this might also be said for many brides to be. If you are planning the most special day of your life without the help of a wedding planner, there are some important ideas that will help to set you up for success.
1. Choose a wedding location that gives you a key contact person will guide you during the months of planning and on the wedding day. This catering contact should create a detailed timeline that takes into account the schedule of food service, family photographs, delivery of rentals, your toasts, etc. By staying close to your timeline, you will be sure to have all that your heart desires… and then some.
2. Choose a hair and make up team that not only will come to your location but will manage your bridal party so that you will all look beautiful and get down the aisle on time.
3. Choose a disc jockey or a band with a leader or manager who will not only gauge and direct the reception but will also make sure that the important people are in the room for toasts and other special rituals. Once a party starts, it can take on a life of its own, and having confidence in the leader is a big plus (and a relief). Some professional bands have a manager or point person who is not in the band, someone whose sole purpose at your wedding is to be your entertainment liaison. A DJ usually has the flexibility to gather up your guests for the toasts, bouquet toss, cake cutting and any other special rituals throughout the reception.
4. Choose a photographer who not only fits your personal style and budget but who will be happy to gather guests for special pictures. A professional photographer should capture the moment without forcing the moment. If making sure specific family members are available for special photos, please ask family members to gather family members. By keeping your photographer behind the lens, they can continue to do what they do best…photograph the beauty.
5. Choose vendors who have worked together in the past and will work as a team for you on your wedding day. It is very helpful to contact referrals from the vendors you trust the most. You can start your vendor selection process when you choose the location or caterer for your wedding-day celebration.
Now that you have chosen the best people to create your special wedding day, here are a few additional tips to help you with the details:
* Plan to skip work during the week before the wedding.
* To avoid being overwhelmed, delegate duties to family and friends who will follow through for you. It is helpful to write their specific duties on 3 1/2 x 5 cards that they can carry with them and pass them out 1-2 days prior to the wedding.
* To avoid offending family or friends, read wedding magazines and books to understand wedding etiquette.
* Meet with your vendors three weeks in advance to confirm details, timing, and your expectations. Usually, the closer and clearer the relationship with your vendors, the better your experience will be.
* Have your maid-of-honor or close family member carry a copy of your timeline for the wedding day in her purse; you never know when you might forget "what is next."
* Create an emergency kit and have it near at all times. An emergency kit may consist of sewing supplies, stain remover pads, make up, hair supplies, etc.
Finally, remember that if at any time you feel overwhelmed with the planning of your wedding, know that you can hire a professional wedding coordinator to help you through the last leg of the process. Hiring a professional wedding coordinator may be the wedding insurance that allows you to have restful sleep for days, weeks, and even months before your very special day.